Couple To Adopt 7 Foster Siblings Who Were Split Among 4 Homes
|
DaShoan and Sofia Olds have wanted to adopt since they married 13 years ago. They just didn't know they'd be adopting seven children at once.
In November 2016, DaShoan, a high-school math teacher, and Sofia, a social worker, saw a local news story about seven siblings who had been divided among four different foster homes.
"Seeing their story was an eye-opener for us," Sofia told HuffPost. "We have always wanted children, but it never happened for us. Here was our chance to give seven innocent children the love of their parents and stability together with their brothers and sisters. Also, it would fulfill our lifelong dream of being a mother and father."
The Florida couple began visiting the children, who had spent two years in foster care, in January, and by June, Necia (12), Eric and Erica (10), Zavian (9), Dava (8), Keyon (5) and Gentry "Reggie" (4) had moved into the Olds' home to begin the mandatory 90-day foster placement before the adoption can be finalized in September.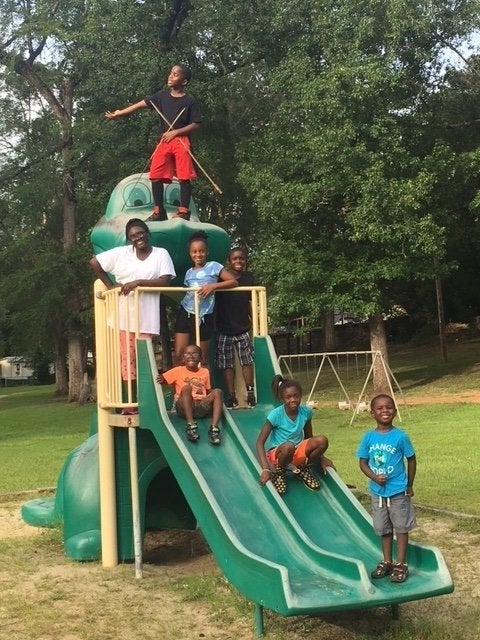 Before meeting the children, the Olds had a busy life full of their careers, family, friends, and their dog, Hero. Now, with a house full of kids who are out of school for the summer, Sofia says it's a different kind of busy.
"We are grateful for the opportunity to stabilize the family and build bonds and memories together," she said. "Our days are full of smiles and laughter. Someone is always clowning or crying. There are definitely more good times than bad."
Blair Bell, the children's representative at the Life Management Center and Big Bend Community Based Care told ABC News that the Olds worked well with the four foster homes during the transition.
"I had the sibling group of seven, which was going to be a quite challenging case to be able to find a home that would be able to take seven children," Bell said.