Amelia Earhart's Prenup Is Proof That She Was The Ultimate Feminist
|
For BRIDES, by Christina Oehler.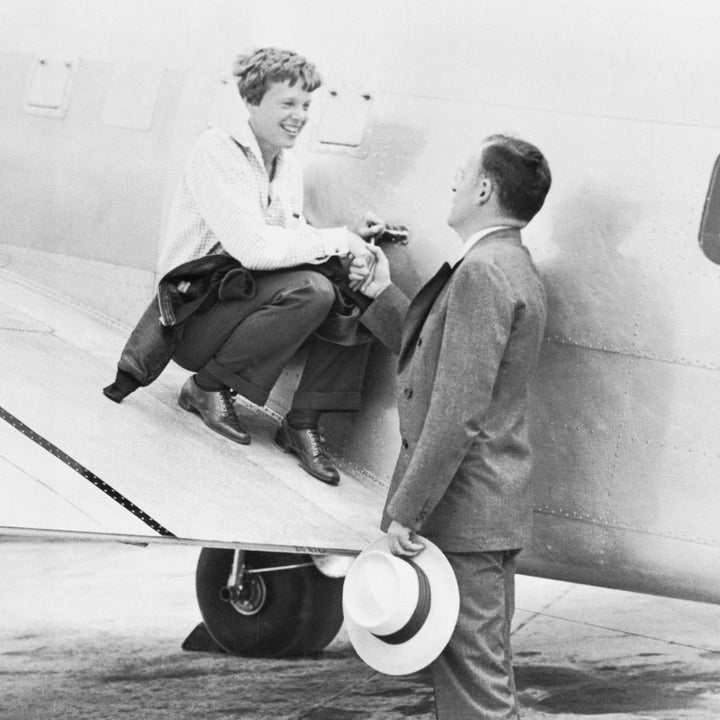 Since last week's reveal that Amelia Earhart and her navigator, Fred Noonan, may have crashed on the Marshall Islands, we've been as curious as everyone about the famed airwoman and the details of her final years before her disappearance — including her secret wedding. And although we usually only hear about her life as a pilot and of her mysterious vanishing, Earhart's life prior to her infamous final flight was remarkably modern and feminist— and her prenup is proof.
According to the Purdue University Archives of Amelia Earhart papers, Earhart's husband, a publisher named George Putnam, proposed to her six times before she finally agreed to marry him. Initially, Earhart did not like Putnam — she came to his office for a publicity meeting and he kept her waiting outside for over an hour. Once they did meet, she recalled that he was rude and impolite. Putnam was married at the time, but as the two spent more time together, they began to grow fond of each other, eventually having an affair. Putnam later divorced his wife and began to pursue Earhart.
Earhart was still uncertain of marriage, (after all she wrote in a letter to a friend: "I am still unsold on marriage. . . I may not ever be able to see [it] except as a cage until I am unfit to work or fly or be active") and prior to their secret wedding on Feb. 7, 1931, she defined the unusually modern specifics of what their marriage would entail.
Earhart wrote a prenup for Putnam, outlining "some things which should be writ before we are married." She told him that she would not be faithful. "I want you to understand I shall not hold you to any medieval code of faithfulness to me, nor shall I consider myself bound to you similarly," Earhart wrote. Additionally, she told him that despite their union, she would not quit her passion for flying. "Please let us not interfere with the other's work or play." She added, "I must exact a cruel promise and that is you will let me go in a year if we find no happiness together."
The two married in a very secret ceremony in Connecticut: the only guests were Putnam's mother and two witnesses. There were no decorations or flowers and the two didn't even exchange wedding rings. As the newlyweds left their small ceremony, the judge addressed Earhart as Mrs. Putnam to which she responded, "Please, sir, I prefer Miss Earhart."
According to Connecticut Magazine, Earhart was previously engaged in 1923 to chemical engineer Sam Chapman. In even more proof that Earhart was the original feminist, she declined to wear an engagement ring and put off marrying Chapman over fears he would keep her from flying after they were married.