Early Wedding Photos Had No Touching, No Smiles, No Hashtags
|
In February 1840, England's 21-year-old Queen Victoria wed Prince Albert in a silk satin dress and white lace veil. The happy couple documented their big day with a wedding portrait, as many are wont to do. However, it being the mid-19th century and all, when photography was still in infancy, the royal family instead sat for an oil painting.
Fourteen years later, technology had advanced and photography was en vogue. So Victoria and Albert pulled a move to which any devoted Instagrammer can relate: They dressed up in their wedding garb to take the posed, nuptials-themed studio portrait they never had. We only hope they uttered "studio portraits or it didn't happen" while assuming the position.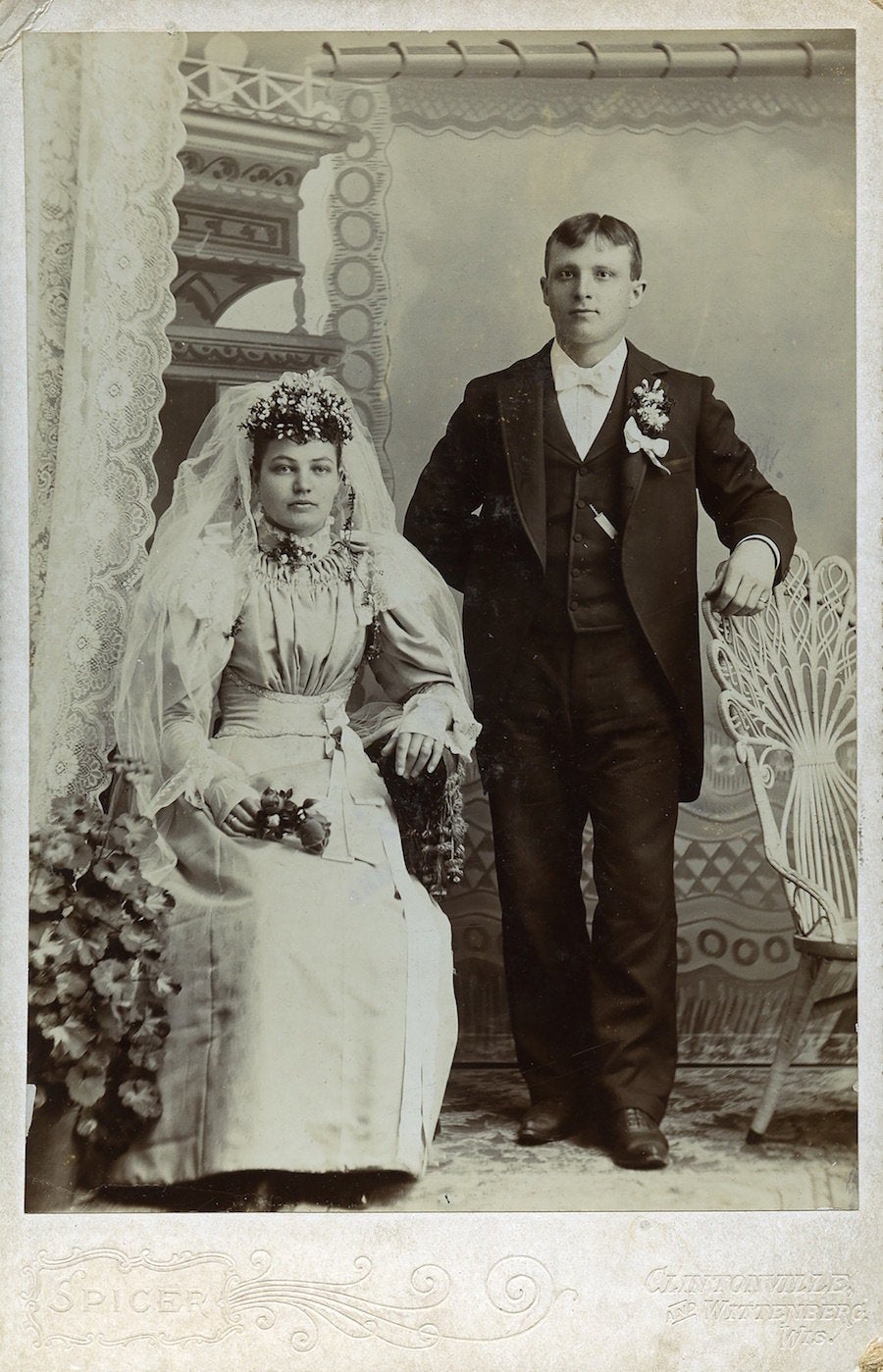 Collector and curator Frank Maresca has long been interested in wedding portraits of yesteryear; the way they captured moments of emotional intensity masked beneath the stringent guidelines of the genre. Each image depicts strangers in familiar costumes ― white dress, black suit ― their individual love stories humming deep beneath the surface of the near identical performances of matrimony.
"I am interested in the vernacular universe," Maresca, who co-owns Ricco/Maresca Gallery, which specializes in contemporary, folk and outsider art, explained to HuffPost. Wedding portraits, the majority of which were taken at "mom and pop studios," fit the bill.
So Maresca began hunting for wedding photos, or specifically, cabinet cards, five-by-seven-inch gelatin silver or albumen prints mounted on illustration board. He found them on eBay, Etsy and in various flea markets, all eerily similar variations of Queen Victoria's original.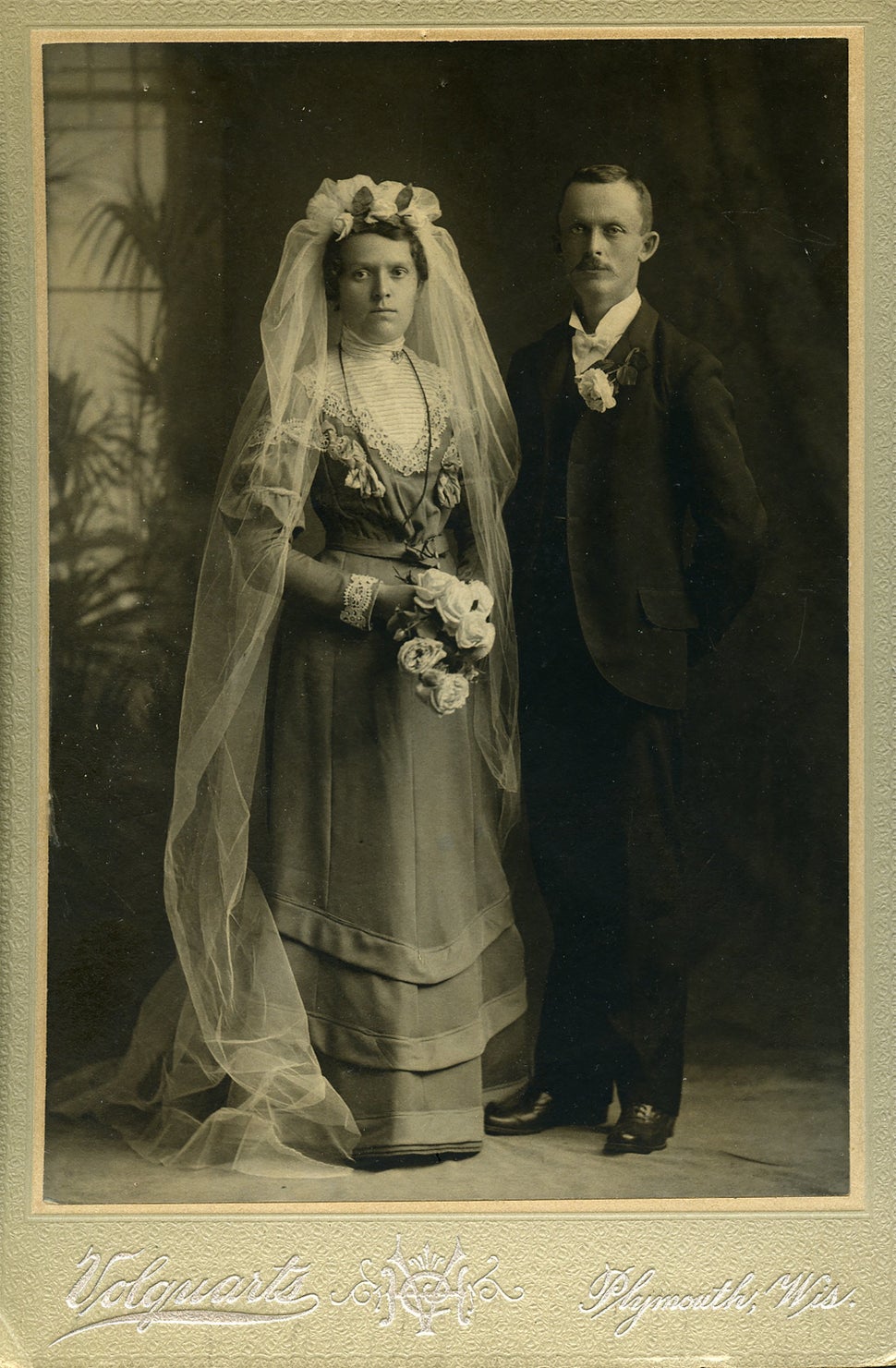 While collecting the images, Maresca noticed something unexpected. The vast majority of them, which date from 1885–1900, emerged from various big cities and small towns in Wisconsin. "The population of Wisconsin, for whatever reason, caught on to this tradition first and it became a fad."
Maresca is exhibiting 100 cabinet cards at his gallery this summer in an exhibition titled "I Do, I Do." The show will also feature vintage wedding cake toppers, made between 1920 and 1960. But Maresca seems most intrigued by the photos, the way they house intimacy within a shell of stoicism, they way they differ from, yet somewhat predict, the traditions of wedding photography we follow today.
"Look at their faces," Maresca said. "Go from husband to wife to husband to wife. See it as a film that represents marriage in Wisconsin over a period of time."
"I Do, I Do" runs from June 29 until Sept. 9 at Ricco/Maresca in New York.
Ricco/Maresca Gallery

Ricco/Maresca Gallery

Ricco/Maresca Gallery

Ricco/Maresca Gallery

Ricco/Maresca Gallery

Ricco/Maresca Gallery

Ricco/Maresca Gallery

Ricco/Maresca Gallery

Ricco/Maresca Gallery

Ricco/Maresca Gallery

Ricco/Maresca Gallery

Ricco/Maresca Gallery